Ubiquiti Networks NBM3 NanoBridge M3 3.3-3.7 GHz High Performance Long Range Antenna
Overview:

Ubiquiti's revolutionary InnerFeed technology integrates the entire radio system into the feedhorn of an antenna. NanoBridge M combines Ubiquiti's Innerfeed and AirMax (MIMO TDMA Protocol) technologies to create a simple, yet extremely powerful and robust wireless unit capable of 100+Mbps real outdoor throughput and up to 30km+ range.
Complete antenna and radio system integration provides revolutionary cost/ performance solutions to the Worldwide Broadband Industry.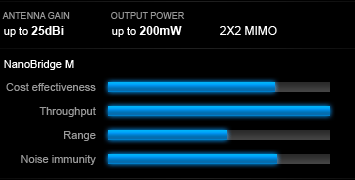 The low cost, hi-performance, and robust "all-in-one" design of NanoBridge M make it extremely versatile and ideal in several different applications (see diagrams on right for some usage examples).
InnerFeed antenna technology with complete radio system integration.
Breakthrough speed 150+ Mbps real TCP/IP throughput.
20+ km Long Range – The device was specifically designed for outdoor PtP bridging and PtMP airMAX base-station applications.
+/- 15kV radio frequency and Ethernet Electrostatic Discharge (ESD) protection.
Application Examples

InnerFeed Technology
Ubiquiti's revolutionary InnerFeed technology integrates the radio into the feedhorn of an antenna, so there is no need for a cable*. This improves performance because it eliminates cable losses.
Providing high performance and robust all-in-one mechanical design at a low cost, the NanoBridge is extremely versatile and cost-effective to deploy.
Integrated airMAX Technology

Unlike the standard WiFi protocol, Ubiquiti's Time Division Multiple Access (TDMA) airMAX protocol allows each client to send and receive data using pre-designated time slots scheduled by an intelligent AP controller.
This "time slot" method eliminates hidden node collisions and maximizes air time efficiency. It provides many magnitudes of performance improvements in latency, throughput, and scalability compared to all other outdoor systems in its class.
Intelligent QoS – Priority is given to voice/video seamless streaming.
Scalability – High capacity and scalability.
Long Distance – Capable of high-speed, carrier-class links.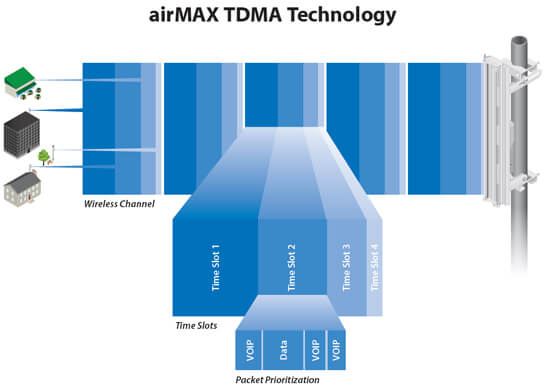 Up to 100 airMAX stations can be connected to an airMAX Sector; four airMAX
stations are shown to illustrate the general concept
Pricing Notes:
Pricing and product availability subject to change without notice.