4G LTE WiFi router
Huawei LTE B311-221 is a 4G LTE WiFi router designed for multiple users in a home or small office environment. It allows users to access the Internet. The Huawei B311 221 supports LTE cat4.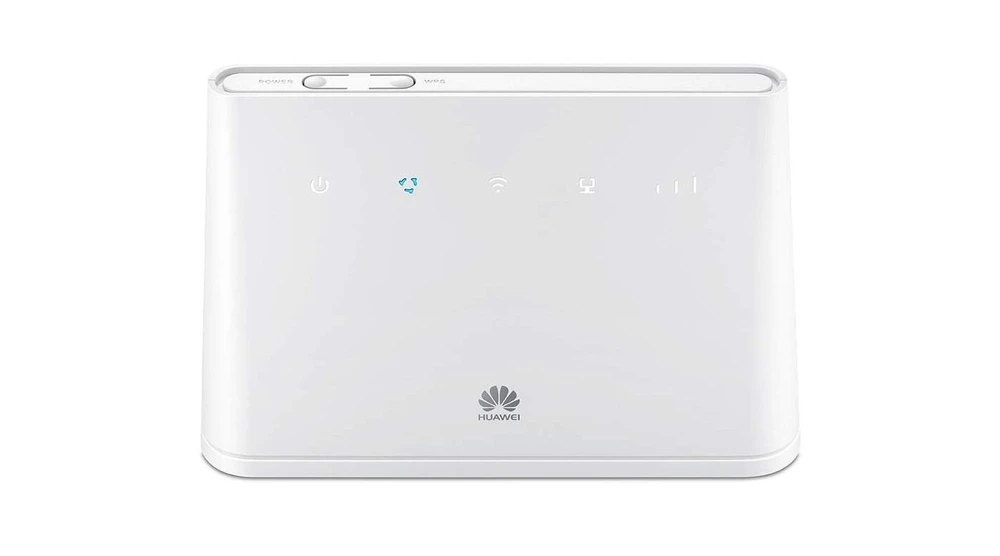 4G Huawei B311-221 router – the most important features:
Download service up to 150Mbps (64QAM) and 50Mbps (16QAM) upload (LTE cat4)
Supported bands: LTE: B1/3/7/8/20/38, UMTS: B1/B8, GSM:B2/B3/B5/B8
Voice service: CS/VoIP (optional)/VoLTE (optional)
Wi-Fi: 2.4GHz 802.11b/g/n 2×2 MIMO to 300Mbps. Maximum users: 32
Number of LAN ports: 1 Gigabit port for LAN/WAN
Multi APN function (optional) for data, voice (VoIP), TR-069 services
Routing mode: NAT enabled (default) / Pass-through IP (optional)
VPN client service (L2TP, PPTP)
Client management via WebUI or HUAWEI SmartHome APP (iOS or Android)
Operator maintenance via TR-069 (optional) and TR-143 (optional)
Huawei Firmware Over the Air (HOTA)
SIM card slot (mini SIM)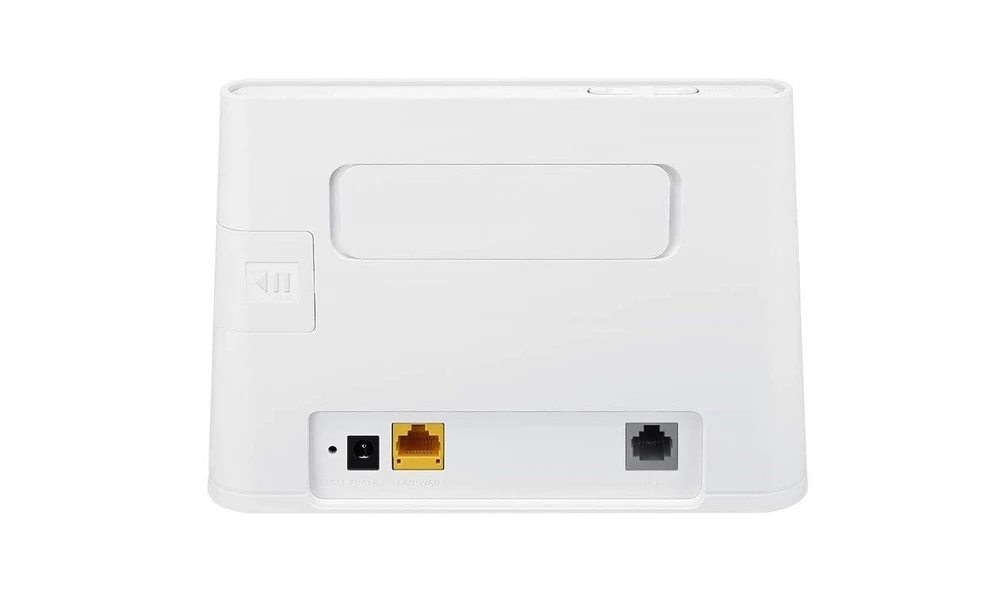 Support for multiple network access standards
Router modem lte 4g Huawei B311-221 provides access to fast Internet 4G LTE cat4. The device works with many other (LTE, DC-HSPA+, HSPA+, HSPA, WCDMA, DGE, GPRS, GSM) connection standards. Huawei B311-221 is equipped with Wi-Fi module working at 2.4 GHz. WPS provides a fast connection to the network.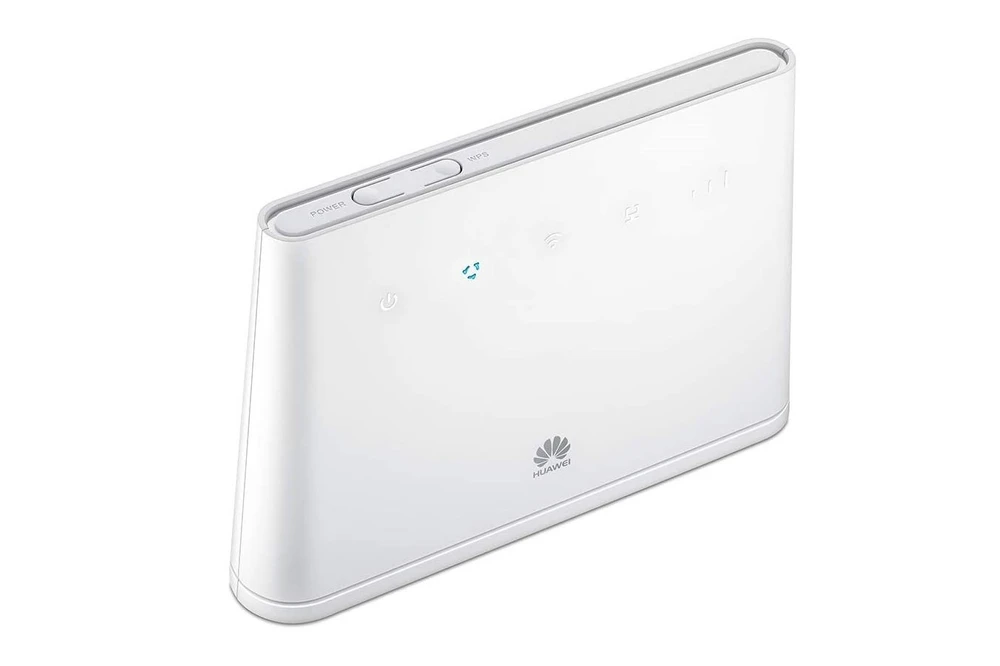 Huawei router 4g lte b311 – easy configuration
The intuitive website makes the configuration process easier, just a few minutes to connect to the Internet. Thanks to the configuration wizard of the B311 router, the device is ready to work after a few steps.
SPECIFICATION
Features / filters
Communication type
Wi-Fi.4G/LTE
LTE category
Cat 4(150mbp/s Download 50mbps Upload
Maximum wireless transmission speed
150 mbps
Number of LAN ports
1×10/100/1000 base TX(RJ45)
Operating frequency
LTE,2.4GHZ
Wireless network standards
IEEE802.11B,IEE802.11G,IEEE802.11N
LTE bands
Bi(2100MHZ),B3(I800MHZ),B7(2600MHZ),B8(900MHZ),B20(800MHZ),B38(2600MHZ)
Type of device power supply
Power Supply
Technical data
WAN
3GPP Release 9
LAN
IEEE 802.3/802.3u
WLAN
IEEE 802.11b/g/n
Supported bands / frequencies
LTE
B1/B3/B7/B8/B20/B38 Cat4
UMTS
B1/B8
GSM
B2/B3/B5/B8
WLAN
2.402 GHz – 2.482 GHz
Ports
One power supply port
One LAN/WAN port (RJ45), IEEE 802.3/802.3u
One phone port (RJ11)
One external LTE antenna port (SMA)
One SIM card slot (Mini-SIM)
Antennas
Built-in LTE/UMTS/GSM main antenna
Built-in additional LTE/UMTS antenna
Built-in 2.4 GHz WLAN antenna
LED signalling
One power indicator (white)
One Internet status indicator
Cyan: Access to the LTE network
Blue: UMTS network access
Yellow: GSM network access
Green: Ethernet access
Red: No SIM card has been inserted or detected, or the SIM card has insufficient balance.

One Wi-Fi/WPS/Hi indicator (white)
Slow flashing: A passive HiLink is detected.
Fast flashing: Pairing of the HiLink continues.
Off: WiFi is turned off.

The indicator starts flashing slowly only when the B311-221 detects a new HiLink.
HiLink devices include Honor routers, Honor configuration boxes, Honor headphones (EMUI 5.0 and above) and others.
One LAN indicator (white)
One group of signal strength indicators (white)

Buttons
One power on/off switch
One WPS/Hi button
The Wi-Fi indicator flashes slowly when the router detects HiLink. Press the WPS button,
to connect HiLink to the Wi-Fi network in your router.
When the Wi-Fi indicator is on, press the WPS button to enable WPS.
One Reset button
Maximum transmission power
LTE
B1/B3/B7/B8/B20/B38: 23dBm±2dB
UMTS
B1/B8: 24dBm+1/-3dB
GSM
B2/B3: 30dBm±2dB
B5/B8: 33dBm±2dB
WLAN
802.11b: 13 dBm
802.11g/n: 14.5 dBm
Other
Energy consumption
< 12 W
AC/DC power supply
AC (input): 100V-240V 50Hz/60Hz
DC (output): 12V/1A
Dimensions (Maximum)
181 mm (width) x 126 mm (height) x 36 mm (depth)
Weight
Approximately 218 g (without power supply)
Temperature
Operating temperature: 0°C to 40°C
Storage temperature: -20°C to +70°C
Humidity
5% – 95% (non-condensing)
Certification/conformity
CE, ROHS, REACH, WEEE, Wi-Fi, Erp, GCF
Software
LTE
DL 2×2 MIMO
DL 64QAM, UL 16QAM
Mobile network
APN Management
Auto adaptive APN
Router
Supports the default route: 0.0.0.0.0.
Supports manual configuration of LAN IP addresses.
Supports Address Resolution Protocol (ARP).
DHCP
The DHCP server can be enabled or disabled.
The DHCP server address pool can be configured.
Lease can be configured.
The DNS relay under the DHCP server can be enabled or disabled.
NAT
Supports NAT and NAPT (compliant with RFC2663, RFC3022 and RFC3027).
– Supports cone NAT.
ARP
Supported
ICMP
Supported
VPN pass-through
Supported
VPN client
L2TP VPN customer service
PPTP VPN customer service (optional)
SMS
Writing/Sending/Receiving
Writing/sending/receiving very long messages
Firewall
Firewall activation/deactivation
URL filtering
IP filtering in LAN
Port forwarding (Virtual server)
Triggering ports (special application)
DMZ service
UPnP service
ALG settings
LAN
10/100/1000 Mbps auto-negotiation
Automatic MDI/MDIX detection
Compliant with IEEE 802.3/802.3u
WLAN
Sets and hides service set identifiers (SSIDs)
Compliant with IEEE 802.11b/g/n
WPS
WMM
Encryption: WEP, AES, and TKIP + AES
Safety mode: Open, WPA2-PSK, WPA/WPA2-PSK, WEP
MAC Address Authentication