airMAX WISP Customer Wi-Fi Solution
Overview:
The airGateway™ is an airMAX  WISP customer Wi-Fi solution. It simultaneously connects indoor client devices and powers the outdoor airMAX CPE (Customer Premises Equipment).
The airGateway is available in two different models: the airGateway, which is the standard model with an internal antenna, and the airGateway-LR, which includes an external antenna for extended range.
In the diagram on the right, the airGateway supports multiple functions:
Acts as an indoor wireless device connecting multiple wireless clients
Connects to a switch to support wired clients
Powers the airMAX CPE on the roof
Typical airGateway Application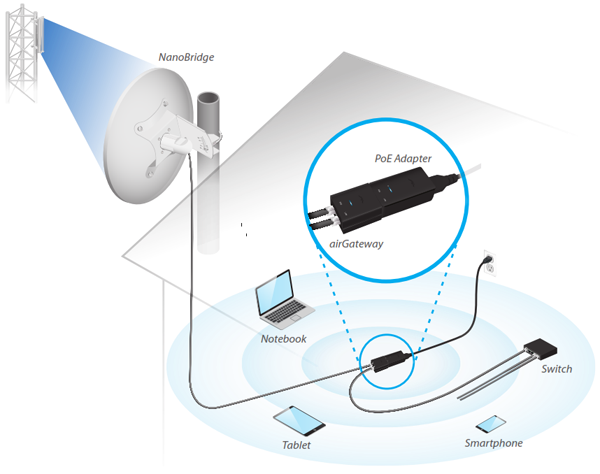 The airGateway is deployed indoors to connect client devices.
Network Modes
The airGateway can operate in any of these network modes to meet the needs of your network:
SOHO (Small Office/Home Office) Router
Router
Bridge
Wireless Modes
The airGateway supports these wireless modes to fulfill your wireless requirements:
Access Point mode to function as the center of your wireless network
Station mode to extend your wireless network
Such versatile functionality makes the airGateway extremely convenient and economical to deploy.
Power Options
The airGateway is compatible with Ubiquiti PoE Adapters featuring 24V, 0.5A or 15V, 0.3A.
ESD/Surge Protection
The airGateway provides an additional ±24kV of Ethernet isolation for built-in protection that lessens the risk of ESD or surge damage to your devices.
Ubiquiti PoE Adapter Compatibility
The airGateway plugs into a Ubiquiti PoE Adapter. Compatible with POE-15-12W & POE-24-12W.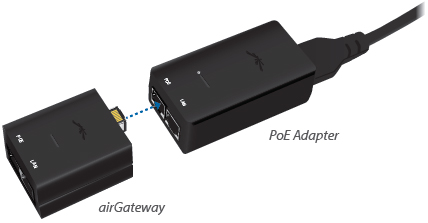 Compact Form Factor
The airGateway™ is available in two models: the standard model with an internal antenna and the airGateway-LR model with an external, high-gain antenna for extended range.
Installing the airGateway™ for Indoor Wi-Fi